Meditation Articles Series
Meditation can enhance your happiness
21 Feb 2008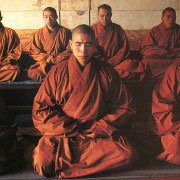 When brain scans are done on practising Buddhists it has been found that there is heightened activity in a spot in the brain called the left pre-frontal lobe. This spot is associated with positive emotions and happy moods. When the same brain scans were done on depressed, stressed and angry people the results showed greater activity in the right frontal cortex.
Meditation is the basis of the Buddhist tradition. The Budda taught that through meditation a person could find happiness and peace. Because the practice of meditation calms the mind and the body the outcome is positive emotions and good moods.
Wondering if meditation is for you?
If you are still wondering if meditation is for you remember that:
It is simple and easy to learn.
You canít make a mistake.
It requires minimal props.
You donít have to be spiritual or religious.
You can take your meditation practice with you wherever you go.
You can find greater peace and happiness through meditation.
The benefits will last all your life.
© Fragrant Heart 2007-2023. All rights reserved. Music by Kevin MacLeod.
Please read our Terms and Conditions carefully before attempting these meditations. Privacy Policy