About Elisabeth Blaikie
Founder of Fragrant Heart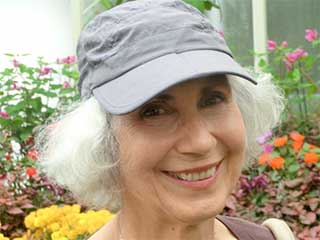 Do you remember a time in your early life when you were focused and concentrated, where the outside world faded away and your own inner spaciousness widened and expanded beyond time and boundaries?
I believe we begin our meditation practice very early in life. We don't of course give it a title because as children being absorbed and focused comes naturally.
I was born in Auckland, New Zealand in 1949. As a child I spent many hours hidden away in my grandparents' orchard high in the nook of my favourite plum tree. My grandparents lived right next door to our family so it was easy to hop across the fence and retreat into that leafy acreage of trees and garden next door, leaving behind the starkness of my parents' newly built suburban house and bare land. Looking back these were precious moments for me where I could be alone in absolute stillness and silence.
Journeying Within
Back in the 1970s I left my school teaching career and a partially completed degree in English literature and psychology to sail the Pacific with my husband for seven years. Our yacht was well fitted for offshore sailing with a self-steering system where neither of us had to be at the helm fulltime. On the ocean crossings one of us would always keep watch at night sitting out on the deck for three hourly shifts. With the rhythm of the seas and the constancy of the wind pressing the sails, our yacht buoyant and uplifted on each wave, I would sink into a meditative state, alert, yet with a feeling of deep inner connectedness to all that is.
Meditation can be described as an altered state of awareness because it goes beyond the constant chatting of the mind and its cacophony of jarring thought streams that continue to keep us in varying degrees of anxiety. Actually meditation is our natural state of being but to experience mind stillness is like an altered state in comparison to the mind's busyness. That is okay. It is not about condemning the mind. That after all is its job to keep on producing thoughts. It's our constant reactions to the thoughts that keep us disconnected from our inner state of peace and calm.
Seeking and Searching
I began formal meditation courses and retreats back in the 1980s. I have always been a seeker and searcher and I wanted to find a technique that would help me to stay in the inner peace and calm that I had experienced most noticeably at times in my early childhood and sailing days. I was also led to embracing a meditation practice I knew would help me cope in a world that wasn't always in tune with my sensitivities. Along with meditation came an awakening to living a healthier life. I also wanted to be of service to others, and with that in mind and the support of my husband we opened a health food store in Australia. During the following five years I built up a very successful business that was based on a real desire to encourage others to live in healthier ways. I also completed a diploma in herbal medicine, a diploma in Bowen Body Therapy and many aspects of naturopathy including iris diagnosis and nutrition.
Returning to New Zealand with my two daughters, after the break up of my marriage in the early nineties, I began an earnest search to know and understand myself better. Anything that was going that offered "enlightenment", I jumped into. Over the next twelve years I tagged along in the wake of several gurus. I also did lots of emotional release work. I trained as a Rebirther and took many people through various forms of breath therapy. After experiencing both, I began to see that the cathartic release work was not as effective as the quieter more gentle connected breathing that was very meditative and led to greater awareness and inner peace. I also began to explore energy healing and became a Reiki master.
Meditating in India
During this time my own meditation practice intensified and I went to India to meditate at the main centre for Vipassana at Igatpuri, several hours train journey from Mumbai. There in the serenity and spiritual depth of Dhamma Giri, and being able to meditate in a single cell rather than the collective meditation hall, I was aware of more sloughing off of a lot of conditioning that had kept me attached to my fears and anxieties.
Value of Meditation
In writing "about me" I wanted to convey to you that meditation is a tool that will help your life to unfold in greater awareness and consciousness.
Meditation calls us back inside ourselves to know that there is simply the constancy of love in the universe. Meditation teaches us to be a lot kinder and compassionate toward ourselves. Then it is effortless for love and kindness to flow out to others. Meditation is an unfolding process. It is not a quick fix, more like the old adage of peeling away the layers. It is about going deeper and deeper into our true nature where all that is illusion disappears and we are just that being-ness of love and compassion. I believe that meditation will help you to let go of your limiting core-beliefs, to know and love yourself more and more, and to listen to your body and what it tells you rather than giving authority to your mind.
As Ram Dass so clearly writes:
"Remember, we are all affecting the world every moment, whether we mean to or not. Our actions and states of mind matter, because we're so deeply interconnected with one another. Working on our own consciousness is the most important thing that we are doing at any moment, and being love is the supreme creative act."
The Vision of FragrantHeart.com
Fragrant Heart is built on the web site creation expertise of my family. I am very grateful to both of my daughters who have always encouraged me to teach from my experience and to write; to put meditation in a perspective that reaches out to others in ways that people can learn to meditate simply and effectively. By doing so each person, no matter what state their life is in right now, can find the doorway that opens for them to greater inner peace and love. World peace, global consciousness starts with each one of us.
Now living in my little home by the beach, surrounded by my loved ones, I am writing, crafting, and spending time in nature. It has been a deeply inward and immensely joyful time to be able to write these meditations for you.
I wish each and every one of you the deepest peace and the most abiding love,
Elisabeth
© Fragrant Heart 2007-2022. All rights reserved. Music by Kevin MacLeod.
Please read our Terms and Conditions carefully before attempting these meditations. Privacy Policy